App Development is necessary for every business's survival and persistent growth, whether a well-known firm or a startup. This is because the entire world lives online today. People prefer to buy, sell and engage online only to save time and money. That's why App Development for startups is not just an option, but a strategic imperative for establishing a strong digital presence, reaching a wider audience, and staying competitive in today's fast-paced market.
As per Statista, 5.18 billion people are internet users. It is around two-thirds of the global population. People want everything with a single click. Undoubtedly pandemic has dramatically influenced this trend of uncompromising need for convenience.
The mobile app development marketplace is growing at an exponential rate. It is high time to invest in mobile apps, especially for startups. This guide can help to take this essential step.
In this guide, we will discuss every aspect of app development for startups, including understanding the mobile app landscape, development process and planning, hiring the right Mobile app development services, and many more essential things.
So, let's begin with this guide without any further ado!
Mobile Application Market – Some Fascinating Stats
Apps are useless without being downloaded. Conducting proper research about the mobile app market and app usage is crucial. To get started, let's have a look at these stats.
The total revenue in the mobile app market is anticipated to reach

US$543.50bn

at the end of 2023. In contrast, it was US$475.90bn in 2022. The mobile app is expected to rise with an annual growth rate (CAGR 2022-2027) of 8.58%, resulting in a US$755.50bn market volume by 2027.

The usage of mobile apps is exponentially growing worldwide. According to Statista, the annual mobile app downloads will be

299 billion

by the end of 2023. Moreover, users spent 88% of their time on mobile apps, highlighting their immense engagement with these applications.






Opportunities for Startups

Mobile apps provide opportunities for startups to disrupt industries with their innovative solutions and target a wider audience. The ever-growing mobile app market allows startups to explore new ideas and business models and build a niche for themselves. They can tap into various industries such as healthcare, education, fintech, food delivery, e-commerce, and many more as their target audience needs. 
By leveraging mobile apps, startups can easily access the global user base, which can help them to design products according to specific users' needs and provide personalized experiences through advanced yet user-friendly features. Additionally, various models like in-app purchases, subscriptions, and advertising offer monetization to generate revenue to survive and grow in the industry.
Mobile app platform market share

The two major mobile app platforms are iOS and Android. Android dominated the industry and became the leading mobile operating system globally. In the second quarter of 2023, it led with 70.8 % of the market share. In contrast, iOS had a market share of 28.4% during this period. The wider accessibility of Android across various devices and pricing facilitates its immense popularity. 
Define the App's Purpose and Identify Target Audience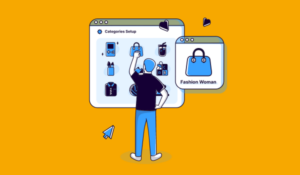 Before moving ahead with mobile app development for startups, owners must know what problems their app will solve. Defining the app's purpose and objective is essential because a robust app with cutting-edge features can promise success in this competitive world. 
The key considerations must not be overlooked if you're looking at app development for startups.

The app's purpose and objectives

Defining the app's purpose and objective gives clarity throughout the development process. It helps discover what value it will bring to the users and what desired outcomes you want to achieve as a startup. 
If you need help establishing the app's goal, answer these questions. They will assist you in making the right decision.
Which pain point will this app solve?

Why should users bother about this app & why is it essential for them to?

How will the app's content and features differ from your website?

How often do you want to update new content and app features?

Will this app development process be in-house, or do you prefer to outsource

mobile app development services

?

How will this app help to generate revenue?

What unique features help you to stand out in this competitive realm?

Why should a user download this app in the first place?



Identify the target audience with adequate market research
The target audience refers to a group of people who are keen to buy your product and services. Certain things must be kept in mind while defining the target audience.

Understand the product value:
Startup owners must comprehensively understand their products. They must ask these questions to themselves before proceeding to the next phase of mobile app development:
How will your mobile app be valuable to different types of users?

What features will make your app unique from others?

Why should a user install your app?



Conduct market research on app development for startups
This is a crucial step and gives insights into competitors, their shortcomings, and USP. After learning the pain points, startups know how to make their app valuable compared to their rivals. Additionally, find out how they operate across social media to provide in-app customer assistance.
Build user persona
A one-size-fits-all approach won't give satisfying results. The next step after deciding the target audience's demographics is to look for common behavior trends in the target audience. People spend money based on their behavior and habits too. Therefore, startups should develop user personas to define user types and map their typical user journeys.
Aligning app features and functionalities with the target audience
To guarantee the app's success, ensure that app features and functionalities align with target audience preferences. Conduct market research, and usability testing, collect feedback, and use this to create a seamless user experience.  
Cater to individual preferences with customization, enhancing user satisfaction.
To understand users' evolving needs and expectations, establish a continuous feedback cycle through in-app surveys, ratings, and reviews. It will assist in improving app functionalities over time.

Planning and Strategy for Mobile App Development for Startups: Key Steps for Success
Planning and strategy play a vital role in the success of mobile app development. It helps create a clear app concept; user flows, and wireframes. After setting app goals and objectives, and identifying the target audience, here are other vital steps required in planning a mobile app development project.
Outlines the app's core features:
Once the market and competitive analysis are complete, map out the app's core features, functionalities, and value proposition.
Design user flows and wireframes:
A user flow shows the app user's pathway while using the app. It ensures the app is easy to navigate and provides a seamless user experience. On the other hand, wireframes outline the app's layout and structure. It helps to articulate the design and functionality to team members and stakeholders, ensuring a shared understanding of the app's look and feel.
Determine technical requirements:
Choose the platform (Android or IOS), integration, and scalability. These predefined technical requirements ensure the app's technical feasibility and best-suited development strategy.
Set realistic project timelines with milestones and deliverables. It becomes easy to track the mobile app development project progress.
Budgeting and resource allocation for the project development:
Create a budget for app development projects, identify the financial resources, and allocate them effectively, including development costs, design expenses, marketing budgets, and ongoing maintenance, to ensure sufficient funding is available at each stage. Budgeting enables the identification and mitigation of financial risks. Also, it becomes easier to monitor and manage costs, identify potential economic risks, and make necessary adjustments to be in the predefined budget.
Develop a project management plan:
Use project management tools to outline project tasks and responsibilities and create effective communication channels.
Adopted agile development strategies:
Implement agile approaches like Scrum or Kanban to embrace development iteration, frequent feedback, and adaptation to increase productivity and responsiveness.
How to Hire the Right App Development Agency?
The next step for top-notch mobile app development for startups is hiring a robust app development team who understands the startup vision. The entire app development project relies on selecting the right mobile app development team. Hiring in-house teams or outsourcing is a crucial decision for the app's success.  
Around 60% of companies from different sectors and 72% of the financial services industry specifically choose to outsource their app development to IT companies. The following can be the reasons to select outsourcing over an in-house team. 
In-house Team 
  Outsourcing 

Hiring an in-house team is a costly affair. According to

Payscale

, a Software Developer's average salary is $76,883 in 2023, excluding hidden costs like sick leaves.

Startups with budget constraints can hire experts for their development team from a country with a low average salary.

The turnover rate is higher. IT talents are in demand, and it might be challenging to find the right one because it is limited to local tech talents only. Startups may counter offering the local talented developer with better benefits, but it will balloon the payroll and not be a suitable way.

There is a global pool of talent from which startups can choose the right one for their team. You are no longer confined by the limited number of candidates in your locale.

The IT industry keeps changing aspects of technologies, tools, and languages. It's entirely your responsibility to upskill your team. Otherwise, it will affect your product.

There are no such technological constraints while outsourcing. Collaborate with IT firms who have experts in different technologies, which are needed to build the solution. 
Tips for Finding and Selecting the Right Mobile App Development  Agency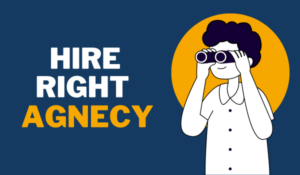 Choosing the right Mobile app development services for startups can be daunting. However, to simplify it, we have listed some tips you must pay attention to during the hiring process.
Define mobile app development requirements
It is important to have clarity about your expectations from your IT vendor so that you can convey them. Be clear about the following: 
Mobile app development requirements: Define the mobile app development type to the It vendor, whether it is a simple MVP (Minimal Viable Product) development or a complex mobile app.

 App development idea with end goals: You should know your mobile app's end goal and create a question list you want to discuss with the development team. 

Budget planning: One key factor responsible for effective team selection and final product quality.

Realistic Project Deadline: Keeping difficulties in your idea, tools, technology stack, and features & functionalities in your mind, set realistic project deadlines without compromising the upcoming app quality.

 Software Model: IT experts extensively use agile methodologies with the Scrum framework. It ensures faster and more effective software development.

Engagement model: The engagement model refers to certain models that cater to specific needs, which help to choose the right mobile app development team for startups. For instance, fixed cost vs. hourly pricing, creating a dedicated team for the project, time and material, etc.



Learn the market trends of app development for startups.
Conduct in-depth research about current market trends, including trending app development tools and technologies, UI/UX design trends, mobile app development process, advanced app features and functionalities, quality assurance, and deployment.
Shortlist top mobile app development companies
After planning, the next phase is to choose the right partner for the app development. There are different ways to look for an IT partner, such as:
(a) Use keywords like top/best/leading mobile development company on Google and create a list of top results.
(b) Search on the global IT company listing sites, like Clutch and Goodfirms.
(c) Look for a company that is investing in research and providing insights to their users. For this, you can search for blogs on how to develop a mobile app like Airbnb or Uber.
You can narrow down your search by specifying location, price, team size, and specific technology name to meet the unique requirement.
Write Your job description and send a request for a proposal
To get one step closer to the right mobile app team, write JD and RFP, which includes app objectives, requirements, milestones, deadline, NDA, SLA, and any other additional instructions, and send it to all shortlisted teams and wait for their quote with references.
Review received proposals and quotations
Evaluate all the proposals, and choose 3-4 proposals that sound genuine to you and catch your attention.

Set a virtual meeting
Spend some time and discover how these proposals can serve your needs. After this, it would be advisable to set up a virtual meeting with the prospective team. It will assist you to gain deeper insights into their methodologies, discuss project requirements, and measure their expertise level.
Choose and onboard the talent to your project 
Choose the right one from your IT vendor's pool based on your requirements. Here are the subsequent things you must look for in a development team.
(a) Pick team members who are experts in relevant programming languages, frameworks, and technologies required for app development, for instance, Swift, Kotlin, Python, etc.
(b) Choose developers with specific experience in mobile app development only.
(C) Select a UX designer proficient with the latest UX design tools and capable of creating visually appealing and user-friendly interfaces.
(d) The need for expert developers in front-end and back-end development depends entirely on the app's complexity.
(e) Hire an experienced QA to ensure the app's functionality, usability, and performance.
(f) Seek team members who can communicate effectively, actively participate in discussions, and collaborate well with others.
(g) Individuals with problem-solving, adaptive nature, and domain knowledge should be part of the team.
 Once it is sorted, it's time to onboard the team for your app development project.
Mobile app development for startups – Complete Stages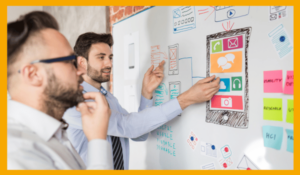 Many startups are leveraging the power of mobile apps to stand out and deliver smooth services to their customers. Success can become your reality if a user-friendly yet feature-loaded mobile app uplifts the business. Here are the following stages include mobile app development for startups
1) Planning and Analysis
The second stage is critical. It involves the app scope, adequate project planning, intense market search, and creating wireframes and prototypes for the app.
2) Design
The third stage includes designing the visual elements, navigation, and interaction patterns. The main aim of the app's design is to provide a seamless user experience with an interactive, intuitive, and user-friendly app.
3) Development
Once the designing phase is over, the app development process moves to the development phase. It includes the selection of the right technical stack for creating backend infrastructure for the app and integrating third-party APIs and services.
4) Testing
After development, the testing phase starts to check and fix the app's errors, bugs, or usability issues.
5) App Launch 
To make the app available for everyone, submit it to appropriate app stores or marketplaces. For iOS, it will be Apple App Store, and for Android, Google Play Store.
6). Maintenance
The app needs continuous updates and improvement as per user feedback. It can include adding new features and fixing any app's bugs.

App Marketing and User Acquisition are Key Strategies
Startups require a well-thought marketing strategy to drive downloads and user acquisition. Even the most innovative app can be lost in this vast market without this. Try out the following key strategies to effectively promote your app.
App Store Optimization (ASO)
ASO is essential for increasing visibility within app stores. Optimize your app's title, description, keywords, and screenshots to improve its search ranking. Choose relevant, high-traffic keywords that align with your target audience's search queries.
Engaging App Icon and Screenshots
Design an eye-catching icon representing your app's core functionality. High-quality screenshots showcasing the app's user interface and essential features can significantly impact download rates.
Content Marketing
Content marketing is a trendy marketing strategy. Startups invest in content marketing to enhance their brand awareness, engaging the existing audience and enticing potential users with relevant blog posts, videos, infographics, and social media content.
Influencer Marketing
Reach out to industry experts and social media influencers who have a massive following in that particular niche. Influencers can help promote your app on their social media page, eventually boosting your brand awareness and building audience trust in your app. 
Social Media Advertising
Utilize Instagram, Facebook, Twitter, and LinkedIn to run targeted ad campaigns. Social media advertising allows you to reach specific demographics and interests relevant to your app.
Remember, a successful app marketing strategy combines creativity, analysis, and persistence. Understand your target audience, effectively promote your app's unique value proposition, and leverage various marketing channels to propel your mobile app toward success.
Conclusion
With an exponential increase in user base, the mobile app development future seems to shine. What you need to do is hire a company that has extensive experience in app development for startups.
Primotech is a renowned mobile app development company, offering customized app development services for more than five years in the market. Whether you're from healthcare, education logistics, gaming, finance, dating, or any other industry, we have you covered. We have a global client base to whom we have offered innovative, robust, and scalable solutions.
We can go the extra mile to understand your business requirement and build a tech solution that delivers results. If you're looking for a company that is reliable and able to integrate trendy technologies into your mobile app, Primotech is a catch! Contact us if you would like to discuss your dream app project with our experts.